Hello !
I feel once again like i have been gone for years when it has only really been a few days since my last blog post. I have been very busy and thats my excuse for the delayed blog post. I will be uploading a video very soon , so do let me know if you have any requests. Apart from that here is another face serum review. Enjoy !
Lierac Luminescence Review.
I must say when i first saw the packaging i was so excited i love the whole idea of the droplet thing (i forgot the English word , i think it might be droplet) it reminds me of my Chemistry class in England. It really makes you feel like you are applying some sort of gold to your face and gets you a bit excited. Suprisingly enough the droplet thing is very easy to use and nice because you can still control how much comes out and there is no possibility of it drying out as the lid is always on the bottle.
The texture of this serum reminds me of a watered down cream, its not your usual watery substance that seems to magically disappear. I really liked it because it was light yet very comfortable for my skin. It has this beautiful smell to it that reminds me of a cosmetics store so discreet yet bursting with aromas. The cream has a metallic tint to it , its hard to describe but you will know what i mean if you see the bottle from the outside , i really loved it.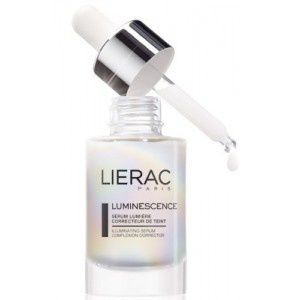 This serum was fantastic for giving my skin radiance and a natural grow but for nothing else. My skin is problematic and oily , so i always tend to look for something that will treat my skin. At the moment im not at that stage where i have wrinkles , im nearly 22 and just moisturizing my skin with a moisturizer that is suitable for problematic skin is all i need at the moment. I would recommend this to women over 40's , i think this is perfect for them. At that age most women have got over any problems they had with their skin and are just using anti wrinkle creams. This would be something that i think would work fabulous under makeup to give that glow and that would be great for women who dont wear makeup to put on to brighten up their skin.
I hope you enjoyed my review , let me know what did you think of this serum and who would you recommend this to ?!
Kisses xo