Aloha !
Now that the weather is starting to become sunnier, i think its the right time for me to start wearing my sunscreen. Yesterday i asked you on my facebook page which suncream you would like to see me review first everyone said Macrovita. This will be the first suncream i will be wearing for the year on my face and i will make sure to review it for you guys just in time for summer. Until i actually finish reviewing the product , i thought it would be nice to share with you a first look at the sunscreen with some information !
Macrovita Hydrating Sunscreen SPF30
To start off i love the packaging for this product, it is waterproof and in an easy squeeze me bottle. The packaging has all the information on you could possibly need for this sunscreen. It is high protection , it has no nasty chemicals and is waterproof. I wouldnt say the product smells of suncream, it smells fresh and cool. The texture is a mixture of cream and suncream however its not as heavy as suncream. It is not oily (great news for my face) and not sticky. One of the things i like about it is that it is straight away soaked in from your skin it wont leave any residue behind.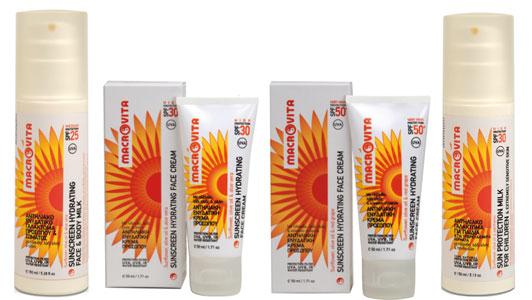 I have attached some photos to this post for you to have a closer look at this product. This suncream so far seems to be really great and i have a feeling Macrovita wont be letting me down at all. You should expect to pay around 16 euro for this cream according to the internet. The price is expensive but dont forget its very very natural. From the internet there is nowhere really i feel i can recommend you buy it from. If you live in Kozani (where i live) i get any Macrovita products from a little organic shop, if you want to know more details about the shop let me know! I look forward to reviewing this product for you guys !
What is your favourite Macrovita product ?!
Kisses xo