When i first saw this i actually thought it was body cream and then when i looked at it closer i realised it was a hair mask which got me super excited. This hair mask is in the cutest jar you could ever possibly get and the great thing is even if you wanted to buy this as a gift it looks really good on it own. This once again is super friendly for your hair as it has no nasty chemicals what so ever. You dont need a lot of this product, just use a tablespoon of this and apply it all over the middle part of your hair and downwards. I left this on for 10 minutes and then rinsed it off however if you have time do a hair treatment with this and wrap your head either with a towel or with something else to keep the warmth in your hair and after about 30 mins or an hour rinse it off.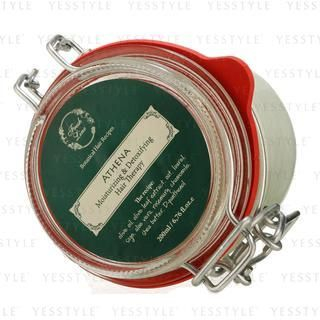 Your hair afterwards is so soft like cotton wool. I absolutely loved this hair mask, and the smell lasts for ages on your hair. For best results i recommend that you blow dry your hair rather than letting it dry natural. Dont get me wrong it works wonders both ways however if you just use some heat to dry your hair , it works even better, Your hair will be smoother and more soft. I use this hair mask once a week or whenever i feel it needs a touch me up !
Thank you once again Fresh Line for giving me this wonderful opportunity to try out this beautiful product and fall in love again!
xo