So me and my friend were at our local shopping center the other week and we decided to go visit the Clinique counters to get our free 5 day foundation sample. We went to House of Fraser first and went to that Clinique counter to were we encountered a woman who I did not feel represented Clinique well. My gut instinct was correct and she seemed to give me and my friends colours that did not match our skin tones. My friend was too white apparently so there was not a colour for her. Since we were not buying the woman seemed to want to get rid of us, we left after receiving our sample to which then I said to my friend lets go to the Boots counter see what they say. We were greeted much better by two ladies who straight away tried their best to find the colour that suited our skin tone. I was much more happy with the results that they had given us which were completely different shades to what the other woman had given us - which I found interesting. As a make up artist myself, I know that it is not so hard to find the correct tone for someone, especially when they are not wearing make up. The ladies in Boots made one mistake in my opinion. After finding out I had my own website they gave me two samples of the new eye cream (which I reviewed last week) and handed them to me. They did not give any to my friend even though they were trying to sell the product to her also. I felt bad for my friend so I handed her one of my samples so she could try it also.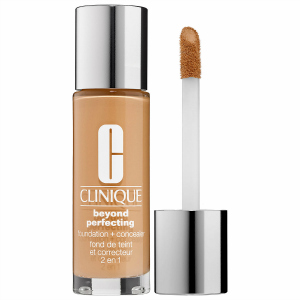 The foundation we were given was the full coverage one. It has no fragrance to it and you really do not need a lot. After finding our colour the ladies at both House of Fraser and Boots were trying to scrape the sample out of the foundation bottles and we both never got enough for five days just because they did not have enough product. I found that quite unprofessional because I was expecting to find a ready sealed sachet rather than a woman scraping with a stick some into a little tub. I know I probably sound really negative but I was really disappointed with Clinique's system since I usually adore the brand. Anyway moving on to the foundation itself... I found it to be very dry and patchy. It stayed on well but afterwards appeared to almost crack when I was at work and leave my face looking rough textured rather than smooth. There was no oily residue its just the appearance of it once its on your skin that is a huge let down. The coverage was fantastic but the rest was a no no for me. Sorry Clinique but the new foundation still needs the formula to be checked.
Have you tried it yet?
xxx