So I was recently in Tesco and I happened to be browsing around their Florence and Fred clothing and I fell in love instantly when I saw a velvet poncho that had fur and was designed to place on top of your pj's in time for that winter weather. Going to sleep or lounging around has never been more glamorous than what it is today with this poncho that I am so obsessed with.
The poncho only retails for 16.00GBP and you can find it in your local Tesco that carries their clothing line. The problem is that you need to be quick because it is nowhere to be found on their website and when I spoke about this poncho to friends everyone seemed to be aware of it and had it on their wishlist. When I went there was 4 ponchos left, so hurry! It is super warm and if you get some grey pyjamas with leggings as bottoms honestly you wont be worries about answering the door or having guests over whilst in your pyjamas.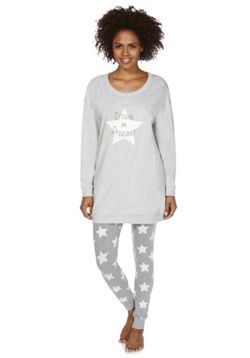 This was the set of pyjamas that I was going to buy to go with the poncho however the trousers were missing on my size, weird right? So I am going to keep an eye open if they bring them back in stock with the trousers and so on. These are 16.00GBP also however keep in mind the jumper is like a jumper and not just a cotton long sleeved top.
What do you guys think? Do you love it or not? xxx